Mina Restaurant
1742 W Golf Rd, Mt. Prospect, IL 60056
Order now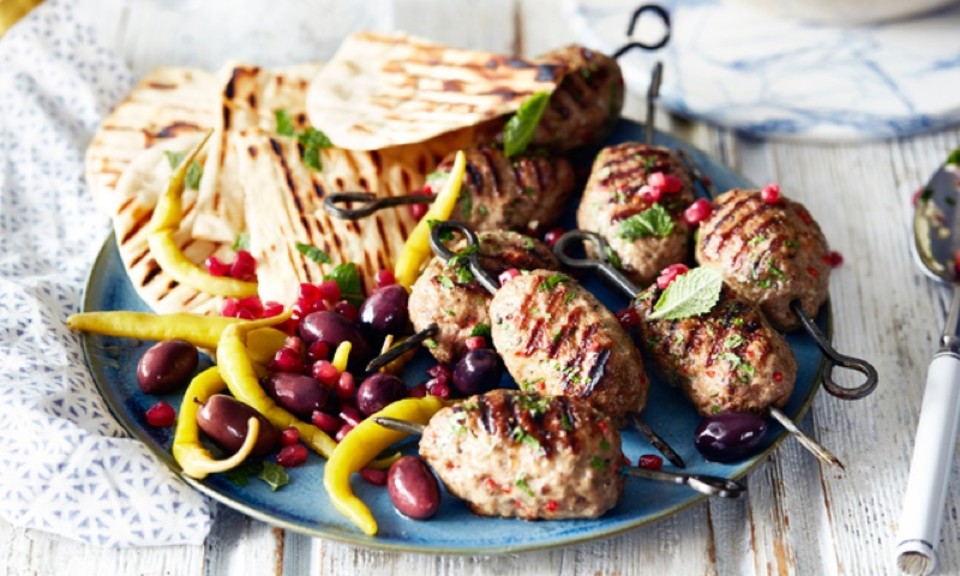 John
WOW! That is the best way to describe the meal I just received from Mina. My original go to Mediterranean restaurant was Pita Inn, and still enjoy their food. Then I graduated to Pita Pita. Naf Naf popped up and burned out real quick. We like to call it Naf Nope now. While Pita Pita has been my go to, Mina may be my new favorite.

First I love that they have Vegan options and clearly post them on their menu. This makes it extremely easy for me to find Vegan options for my lovely wife. She had the Mina Vegetarian Dinner. She used Phenomenal to describe her plate.

Being the Omnivore I am I opted for the Colorado Lamb Chops. They were cooked to perfection and accompanied with a healthy side of rice with mix veggies.

We also split an order of their Baba. Which had a wonderfully unique preparation that I have not had before. Also vegan which was a plus for sharing.

On top of that their delivery was quite possibly the fastest I have ever experienced from grub hub. If I had to guess it was 25-30 mins before the food was at my door. Jimmy Johns may need to relinquish their slogan to these guys.

I will be ordering again. They have set the bar extremely high & hope they can continue their outstanding food and speedy delivery. Give them a shot, I think youll be thankful.
Jason
I always love this place, good food and great service. Today I ordered a mix dish of chicken, beef and shrimp kabobs and as always the food was great! I asked for an extra pita bread and they added complimentary. Also ordered some hummus, which was great and in good quality and quantity (which is why I asked for more pita bread ;) Food was nice and hot on delivery. Overall, yes I would definitely recommend Mina's!
Ginger
Been enjoying Mina restaurant for approximately a year and they are always consistently good. I have highly recommended them to all my local pals. The Lamb Tagrine is my personal favorite. They are also very generous in portion to pricing ratio. I can order up a dinner and my family gets at least 2 meals out of it.
Francis
Lightening fast delivery!! And the food was fantastic. I ordered the lamb shank with a salad. The shank was tender and flavorful and the salad was fresh and crisp. Will order again next time I'm in town.
Michelle
Great food and huge quantities for a great price. We had delivery so I can't speak for the restaurant itself but the delivery was fast & friendly!! It's definitely on the top of our list!!
About us
Dinner, Lunch Specials, Mediterranean, Salads, Sandwiches
Today

Delivery: 11:00 AM - 9:00 PM

Takeout: 11:00 AM - 10:00 PM

Delivery

Monday:

11:00 AM - 9:00 PM

Tuesday:

11:00 AM - 9:00 PM

Wednesday:

11:00 AM - 9:00 PM

Thursday:

11:00 AM - 9:00 PM

Friday:

11:00 AM - 10:00 PM

Saturday:

11:00 AM - 10:00 PM

Takeout

Monday:

11:00 AM - 9:00 PM

Tuesday:

11:00 AM - 9:00 PM

Wednesday:

11:00 AM - 9:00 PM

Thursday:

11:00 AM - 9:00 PM

Friday:

11:00 AM - 10:00 PM

Saturday:

11:00 AM - 10:00 PM
We are a family owned and operated restaurant that brings to the Windy City an unprecedented experience in Mediterranean dishes. It serves up mouth watering dishes from the Mediterranean cuisine. The "sizzling" kabobs and many other specialty dishes would make you want to come to us again and again. We provide catering for events ranging from 5 -1000+ people. If you would like to make arrangements for private parties or events, just give us a call and we will help you.